Kejriwal faced hustle at Ludhiana station as Congress protesters were shouting 'go back Kejriwal'. Meanwhile, Kejriwal attacked Badal family after reaching Ludhiana and said that he will leave Punjab only after sending Badals to jail.
— ANI (@ANI_news) September 8, 2016
At Delhi railway station in the morning, the BJP Mahila Morcha staged a demonstration against Kejriwal when he was about to leave for Punjab. The protesters were shouting slogans against former Delhi minister Sandeep Kumar who has been accused in a rape case and sacked by Kejriwal after his objectionable sex CD surfaced. Some activists managed to come close to Kejriwal despite presence of policemen.
They demanded that Kejriwal speak on the alleged "misconduct" of his MLAs and expel Ashutosh for his controversial blog defending Sandeep Kumar.
— ANI (@ANI_news) September 8, 2016
The protesters presented Kejriwal 'bangles and roses' for, as the demonstrators said, his failure to act against AAP member Ashutosh.
The protesters questioned Kejriwal's "silence" in the entire matter, with the AAP alleging that the chief minister was manhandled during the "pre-planned" protest.
Blaming Prime Minister Narendra Modi and the Delhi Police for the alleged manhandling of the chief minister, the AAP said the law enforcing agency was a "mute spectator" during the "pre-planned" episode.
— Manish Sisodia (@msisodia) September 8, 2016
— आशुतोष (@ashu3page) September 8, 2016
Earlier on Wednesday, Delhi Police has expressed its inability to provide security to Kejriwal during his five-day visit to Punjab, saying it "does not have jurisdiction over that state".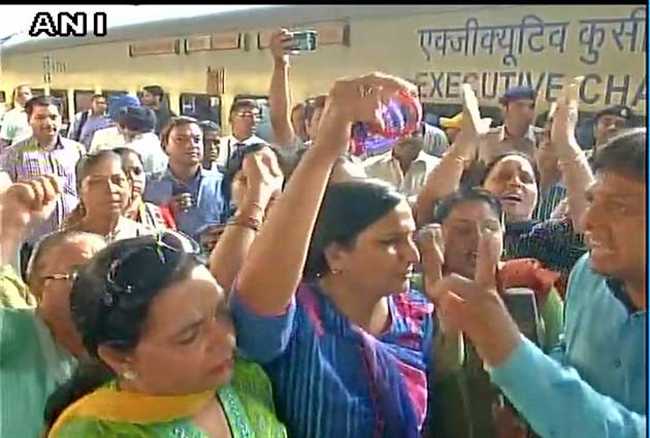 Senior AAP leader Sanjay Singh charged that the police first informed the BJP that Kejriwal would not be given any security cover and then got the chief minister attacked.
However, the Punjab Police has been requested to provide security to Kejriwal during his visit to the state, police sources said. "We have not refused him security. He is leaving Delhi for Punjab for five days. As per the security norms, if he travels by train or car, we are supposed to drop him at the first destination in that state and thereafter, the state police takes over," said a senior Delhi Police official.
(With agency inputs)

Latest News from State News Desk