We have to keep in mind though that the car we got to see was a preproduction unit and some of the parts, especially in the cabin, were not up to production car quality. What you must also know is that all our camera equipment, including even our cellphones, were sealed so we won't be able to share any exclusive images from this event.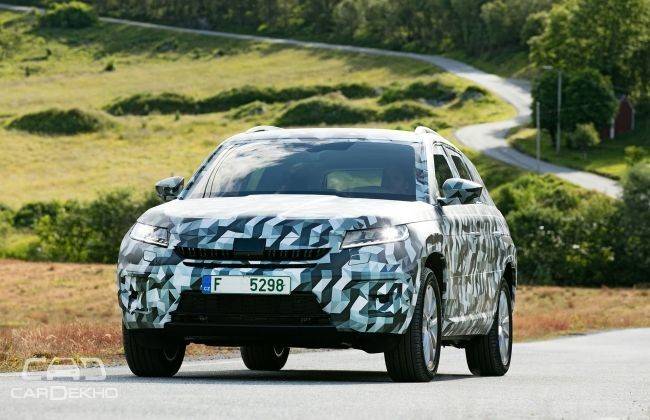 Coming back to the car, it will be the first Skoda product to be based on the manufacturer's new design language. It closely resembles the Vision S concept car that was showcased earlier. The Kodiaq appears more mature and butch, which should appeal to the vast community of our SUV crazy countrymen. It has good proportions and has that confident stance that give SUVs an edge over similarly priced sedans.

The 4.7m-long SUV is based on the parent company's MQB platform and at 1,882mm, it is rather wide and has a wheelbase of 2,791mm (about 100mm more than the Octavia). With three rows of seating, the Skoda Kodiaq SUV should easily accommodate 7 people (unlike the Vision S which was shown as a 6-seater).

Unlike the unusual combination of circular and rectangular headlights on the Yeti, the Kodiaq gets sleeker headlights which resemble the Skoda Superb. You get the option of LED head- and tail-lights and both have a hint of Skoda's newfound liking of crystal-like effects. After all, the Czech Republic is renowned for its crystal artworks.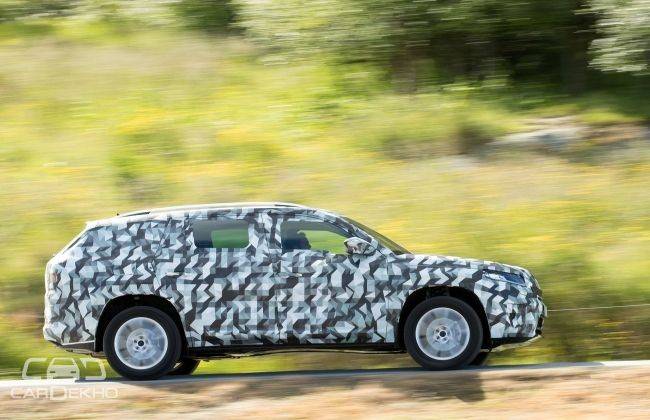 The side has one prominent line running from the bonnet to the tail-lights. The sharp propeller type 20-inch alloy wheels and low profile (235/45 20) tyres enhance the appeal of the Kodiaq but we feel that India might get smaller 18- or 19-inch wheels with less appealing alloys.

On the inside, the new dashboard looks plush enough for the car's price. Not surprisingly, the cabin is roomy, looks comfortable and attention to detail is good. There are some plastic parts in the lower part of the cabin which were not up to the mark but, hopefully, these will be ironed out in the production version of the car.

The 7-seater with all the seats up offers 270-litres of storage; with the third row folded you get 630-litres and with both the second and third row toppled down it carves out a neat 2005-litres!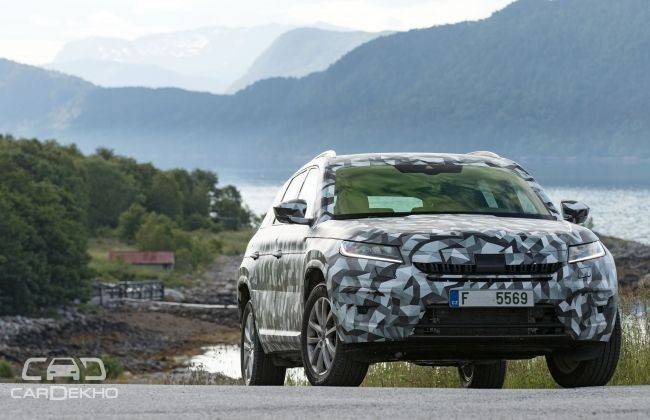 Good support is offered in the front seats while there is no shortage of room in the second row either. The third row though is suited only for shorter journeys or for children and could prove to be the car's Achilles Heel in the face of competition.

In terms of features, the car has six all-new offerings for this segment including the door edge protection that prevents the front and rear doors from being damaged in congested car parking lots. Electric door child safety and cosy head rests in the Sleep Comfort package are among other notable features.

An overload of technology has led to in-car Wi-Fi and SmartLink system with everything you can ask for including Apple CarPlay, Android Auto and even MirrorLink. If your smartphone has the option, then you can also use the PhoneBox which charges phones wirelessly.

The car, however, was only for display and we couldn't get behind the wheel of the Kodiaq. For all we know now, the car will come with the following powertrain options internationally:
- Petrol 1.4-litre TSI producing 125PS and 200Nm with front wheel drive (FWD) and 6-speed manual gearbox.
- Petrol 1.4-litre TSI producing 150PS and 250 Nm with option of FWD and 4x4 with DSG gearbox.
- Petrol 2.0-litre TSI producing 180PS AND 320 Nm with 4x4 and DSG gearbox.
- Diesel 2.0-litre TDI producing 150PS and 340Nm with option of FWD and 4x4, and 6-speed manual or DSG gearbox.
- Diesel 2.0-litre TDI producing 190PS and 400Nm with 4x4 and DSG gearbox.

Skoda has clearly stated that the Kodiaq is not being positioned as a hardcore off-roader but it does have an Off-Road mode if you do decide to set off on a mild adventure. At the touch of a button the Kodiaq can be set up from a city commuter to a fairly capable adventure machine.

Summing things up, the Skoda Kodiaq lives up to its billing in terms of its European build and ride quality. Despite neither being a proper off roader nor a car with proper third-row seating, the SUV definitely exudes a premium feel. And for the expected price tag of under Rs 30 lakh, the Kodiaq looks like a winner when it comes to features and technology.

Source: CarDekho.com